London's O2 arena is now free to explore in Fortnite, although the venue will only be accessible for the rest of this week.
  The virtual event is the result of a partnership between O2, British music label Island Records and Fortnite developer Epic Games. Formerly known as the Millennium Dome, the world-famous entertainment venue has been meticulously recreated in the online battle royale, albeit with some fictional expansion to the backstage area, so that players have something to do.
  Among other things, you can hunt for collectables, ride around in a giant hamster ball, overcome a challenging obstacle course and surf in a custom wave pool. Naturally, there are rewards for participating in these activities, including new music tracks for the Fortnite lobby and a "Squeezy Life" spray paint cosmetic.
  In order to assemble the concert venue in-game, O2 recruited Fortnite creators KKslider, DolphinDom and Team Cre8. As well as building the virtual space and its various minigames, this resourceful team also helped prepare the arena for an online gig that will be taking place this coming Thursday.
  Read more
  Here's How Battle Stars Work in 'Fortnite' Season 7
  Here's Where to Find the Alien Artifacts in 'Fortnite' Season 7
  Here Is How to Begin 'Sea of Thieves' New 'Pirates of the Caribbean' Update
  On that note, R&B group Easy Life will become the first-ever U.K. act to play a set in Fortnite. Starting at 3:30 p.m. ET on 24 June, the concert won't only be a musical performance, but a wholly interactive experience.
  Players will be transported to six exotic locations (each inspired by a different track from the band's album) where they will get to interact with the show in exciting ways, while taking advantage of the video game setting. For instance, you can be swallowed by a monstrous fish and will even get to tour a futuristic metropolis on a hoverboard.
  Speaking about the event, Wertandrew, Lead Community Creator at Team Cre8, said: "Music was always a passion alongside level design and we are absolutely thrilled to have been involved in a project that combines both. This is the first time that an experience features an iconic venue and interactive show, both built from the ground up by Fortnite creators for players and music fans all around the world to enjoy."
  Fortnite has hosted virtual concerts in the past – for global acts like Travis Scott, Marshmello and J. Balvin – and they have always been unique, one-off experiences worth checking out. With it being over a year since many people last attended a live-music event, Easy Life's gig should be yet another highlight for the game.
  Fortnite itself is currently in its seventeenth season, which has a distinctive alien theme that has carried over into its version of the O2 arena.
  How to Access the O2 Arena in Fortnite
  In the lead up to the show, you can still explore Fortnite's depiction of the O2 arena and uncover its hidden secrets. Regardless of what platform you are playing on, the steps to access the venue are basically the same.
  First, you will need to boot up the game itself. Once you have done that, you will be taken to the game mode selection screen, which displays options for "Save the World," "Battle Royale" and "Creative." Choose the latter and you will be taken to the menu for the creative hub, where the O2 arena can be found.
  Once you are in the creative menu, press the play button. You will then be prompted to choose a server.
  From here you will need to select the "discover" option and then enter in the relevant island code, which is 2500-3882-9781. This will take you directly to the O2 arena.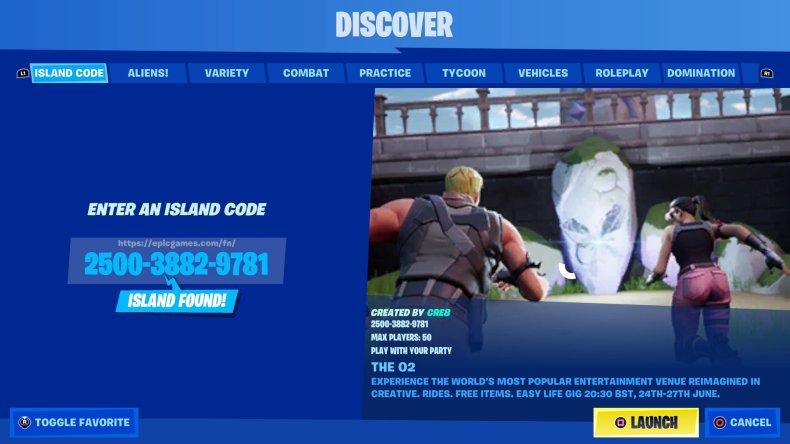 Once you are in "Fortnite's" creative hub, navigate to the "discover" tab and enter in the code 2500-3882-9781.
  Epic Games
  The Easy Life concert will be running from 3:30 p.m. ET on Thursday 24 June to 7 p.m. ET on Sunday 27 June.
  To attend the show, join the O2 arena server (as per the instructions above) during the relevant time window and follow the signs to the main stage. At the top of the stairs, you will find a portal that will take you to the virtual gig. Interact with that portal and the matchmaking will begin.
  If you miss the performance, it will be posted later exclusively to Easy Life's official YouTube channel on Monday 28th June.
  1 of 3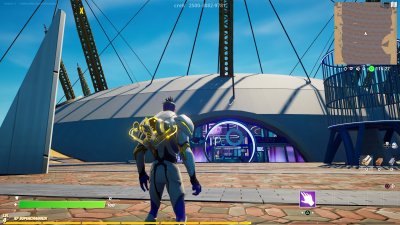 The O2 arena will be available to explore for one week only.
  Epic Games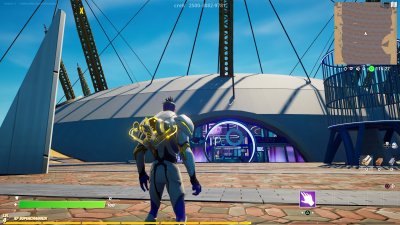 The O2 arena will be available to explore for one week only.
  Epic Games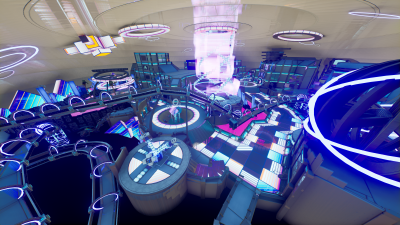 "Fortnite's" O2 arena doubles as a music-themed amusement park with its own rides and minigames.
  Epic Games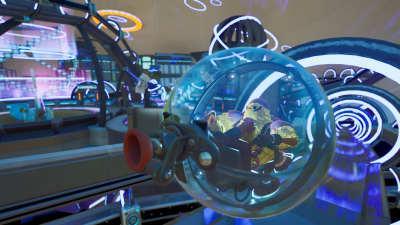 As well as being a traditional music venue, "Fortnite's" version of the O2 arena includes a number of minigames, each with their own prizes.
  Epic Games